Artist - Dan Zachs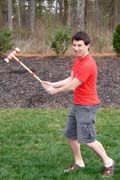 Dan Zachs is a fun-loving college student attending the University of Connecticut. He is majoring in Biomedical Engineering and intends to follow the tract of Biomaterials.

Dan currently draws a comic entitled Matt and Greg for UConn's Daily Campus newspaper. When he is not drawing comics he enjoys playing the piano, competing in croquet, and playing 'Mario Kart'. He considers himself to be one of the best 'Mario Kart' racers in the world!

Looking for a higher education job?